About The Contemplative Gaze
The Contemplative Gaze offers resources for personal and group spiritual growth using a contemplative method of viewing art as the catalyst for engagement. We lead programs for congregations and small groups seeking to deepen their understanding of themselves, other faith traditions, and the divine.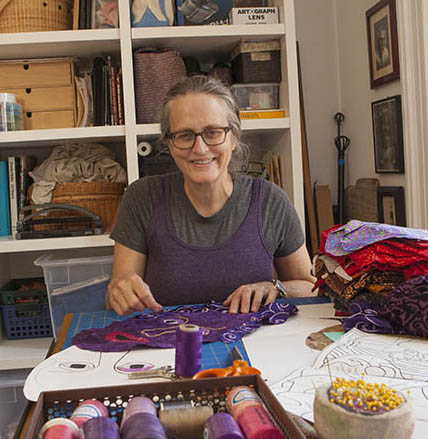 Posey Krakowsky is an Episcopal priest in the Diocese of New York.  She currently serves as a priest associate at the Church of the Ascension in Greenwich Village.  An MDiv graduate of Union Theological Seminary, she also has an STM from General Seminary.  Krakowsky has been blending her love of the arts and religion her entire life.  She earned her bachelor's degree in early Christian studies from Harvard University, then went on to work in the world of fashion in New York for nine years before her two children were born.  She later taught at the Ethical Culture Fieldston School in the Bronx, NY before starting seminary. Krakowsky is an award winning fiber artist. She has also been a guest lecturer at Union Theological Seminary, where she co-taught Art & Interfaith Dialogue -- a course which takes place at the Metropolitan Museum of Art. She is committed to finding ways to bridge the divides between different faith traditions through dialogue. Her art website can be found at poseykrakowskyquilts.com.